Isabella loves being outside. I know, what kid doesn't?
This post was inspired by a conversation I was trying to have with
Crisa
today. We have the hardest time starting and finishing a conversation with 12+ kiddos under the age of 4 running around.
When I was growing up going to grandmas house meant:
10+ acres (excluding the neighbors land)of forest to roam through
wild strawberries and fresh blue corn
visits from dozens of different birds all easily viewed from the breakfast table
pretend houses/forts/schools made from trees
life threatening ice skating
snow covered hills
deer and rabbit tracks with the occasional siting
what seemed like endless trails and tire swings
cows, horses and chickens within walking distance
Since this wont be available to Isabella through her grandparents I feel like it is very important for me to introduce her to nature and a more natural kind of living.
The longer I live in the city the farther away I feel from my "roots." Roots as in where I belong. I hope to seek out new skills this year. I really want to learn to grow my own food (someday care for my own animals) and finally cross over to buying more directly from local farmers and less from grocery stores importing from all over the world. I guess I'm trying to make a new years resolution.
I am always more refreshed mentally at the start of autumn. The middle of winter is really a horrible time to make a year long resolution. Anyone else? A new autumn resolution?
[more Ike]
I have to add there has been a highlight to Ike. We have gotten to know our neighbors a little bit more and even spent a couple hours laying on a blanket in the front lawn visiting. I look forward to seeing them next time our power goes out!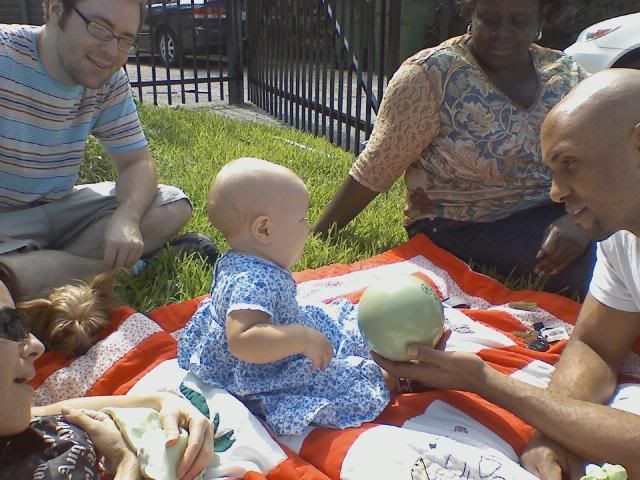 We check out of the hotel tomorrow. It has been nice to have a large room to our selves with free already made breakfast, but i definitely will not miss eating out of a microwave. Back to Mirna's we go. Yey for stoves and home cooked meals! delicious flour tortillas! and home made beans!