Oh yes! I do love me some pumpkins. I think I burnt myself out of pumpkin last year with all those pumpkin pregnancy cravings, so I was a little hesitant to start so early. My mom brought by a home grown organic pumpkin last week and what was I suppose to say?!?! "no get the delicious thing away from me?" I roasted the pumpkin like usual, because we sure do love roasted pumpkin over here. Isabella and Elliott ate quite a bit of it just roasted and I put the rest in my best ever pumpkin soup. To remind myself what good soup is suppose to taste like:
Saute: two garlic cloves, 1/2 sweet onion and one jalapeno
Add: most of a roasted sugar pumpkin, 2 cups vegetable broth, 1 can coconut mulk, 1 tsp of cumin, a hand full of cilantro
Heat: thoroughly
Serve: with fresh cilantro and crispy sour dough bread
Sugar pumpkin's aren't the only thing being cooked up over here! Check out this super cute pumpkin I made!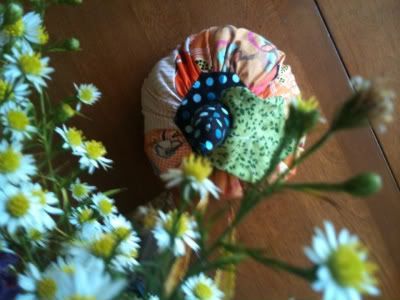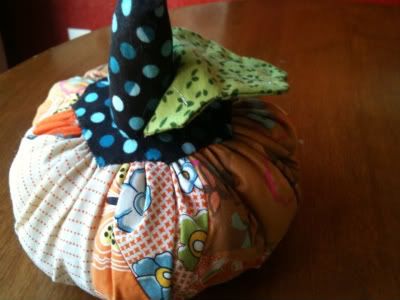 Basicly this is a really big dinner plate sized yo-yo full of stuff and fluff. I couldn't pull my yo-yo quite tight enough to over the hole with just the stem so I made a little base and added a leaf. I stitched these on very carefully because I know that stem and leaf willl.... be well loved. I am still trying to use only scraps (something about this time of year makes me not want to spend money...??) so I pieced together the very few orange pieces of fabric I have. I like the homeliness of this pumpkin and I think I am going to make it some friends (at least one more for Elliott to play with since Bella has been a bit of a pumpkin hog). I am out of orange fabric so I am thinking maybe a blue or white pumpkin. And pumpkin season is officially here!!