How is it that I feel even less prepared and more nervous for baby number two? I think we have the clothing, feeding, bathing, and how to sleep with an infant thing down now. But that still leaves diapering, commuting, packing, preparing to move and eventually moving across the country with an infant. I still have [at least] 6 weeks so I am going to tackle one thing at a time. Right now I've been hard at work on making diapers. I am still at a loss on just how many diaper covers will be needed for a newborn! I don't want to purchase too many knowing this most likely will be the last baby and he will be growing out of them very very quickly. But, on the other hand not enough could be trouble for a tired mama. My mom finally agreed to come visit after the baby is born because I am a little nervous for miss Bella.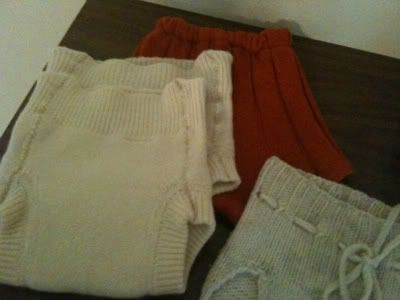 During my last diaper shopping trip at
Young and Restless
they finally convinced me to try wool covers. I've been thinking long and hard about making the switch when we move to Washington anyway for warmth and mostly for the small environmental impact they have. So I bought four covers [don't worry I've purchased a few newborn pockets as well] and have found numerous resources for how to care for them online. Can I just say how freaking cute are these? If they work out I will definitely try to make a few of my own. They look very simple and I've found quite a few patters online not just for knitting but how to use an old wool sweater for diaper cover fabric. It seems like a lot of work but then again so did all cloth diapers when I started out.
A few of the diapers I made from an old t-shirt pile.