I know I know! I never wear skirts so I was a little unsure about spending money on this project. Well, to my surprise it doesn't look horrible and I may just make it again with nicer fabric. For now my $0.99 goodwill linen look alike fabric will have to do. The pockets are made with this adorable piece of scrap fabric Grandma gave to me a couple months ago. It was a rather large scrap so I've been saving it for something special. I was inspired to make this skirt by a dear friend who has the exact same one but in a wintery red flannel from L.L. Bean. (I think she found it at the Goodwill too!) She let me borrow the skirt to use as a pattern. Woo! Pattern cost: $0! Thanks Liz!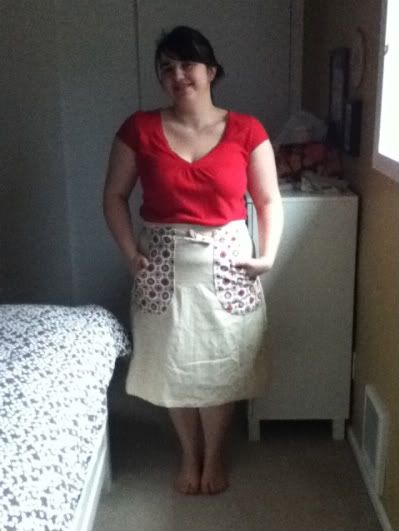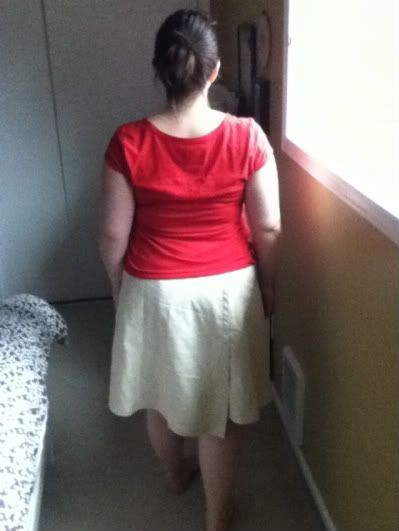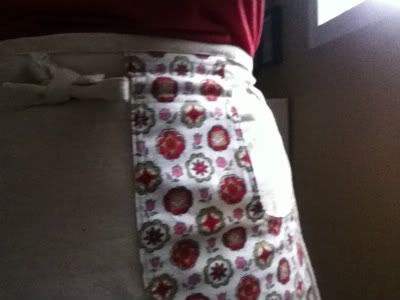 It's a wrap skirt so no worrying about if it will fit just right. One size fits most.
So it is no secret that I like points and challenges so when I found this challenge over at
Sew Weekly
I decided I needed to add a point system to all my homemade creations! I'm adopting their
point system
because it makes so much sense. It looks like this:
* 5 points per yard of fabric used
* 10 points for fabric being vintage, thrifted or upcycled
* 3 points for every pattern used that you've never sewn before
* 10 points for using a pattern/fabric you've had for more than a year
* 20 points for integrating a SCRAP (not a piece of fabric you cut) less than 1/2 yard into your garment
Points for my skirt:
5 points for one yard of fabric
10 points for it being thirfted
3 points for never having used that pattern
20 points for integrating a scrap
Total skirt points: 38!
New Years Resolution Update: I finished A Lesson Before Dying last night which is why my eyes are all red and puffy this morning. David and I tried to have a conversation about slavery last night but it got too upsetting. Sometime the masses can be so disappointing. I hate to compare slavery to global warming but it seems like in both cases people knew what they were(are) doing was(is) wrong but didn't(don't) want to change because it would be too hard. I wonder if that is human nature or just American culture. It seems like the rest of the world is trying to improve a lot faster than we are on a government level.