So I battle with myself every time I see cute toys I know Isabella would love. On one hand I want to foster creative and dramatic play and on the other hand I don't want my house to be full of STUFF that will break or we will lose interest in. I spend a lot of time and energy thinking about the things I buy and bring into my home. I want most of my purchases to be life long buys or things we need.
Bella recently started cooking for her stuffed animals and dolls. I think the idea may have come from her love of all things Raggedy Ann right now. If you are familiar with the books Marcella, Raggedy's mistress, takes very good care of all the dolls in the nursery. Ok so my idea here was to make something for Isabella to cook with, without bring more big boxy toys into the house.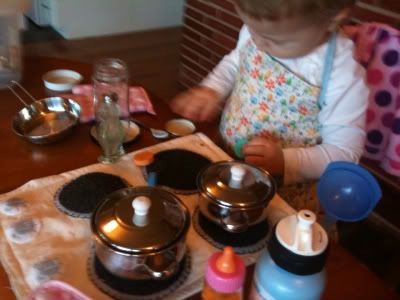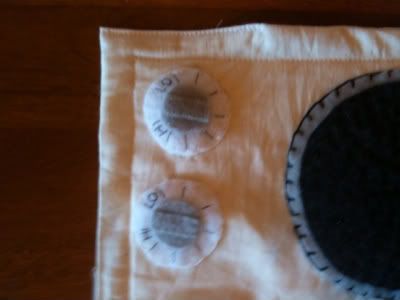 Lucky for us we had all the materials needed already for this project. I stitched some felt circles onto a piece of fabric added some batting to make it a little more sturdy. The best part is she can bring it anywhere and when she is finished it folds up and can go into her "kitchen" bucket and put on her toy shelf.