David has been school and work free all week. We decided to build a raised organic vegetable garden with all our spare time together(you would be surprised.) Our finding was that this project was not inexpensive. We put a hold on the project until we can gather more funds. Thursday we bought the lumber and David was more than happy to put it together. Due to the insane amount of mosquitoes out in Houston right now we built it in doors.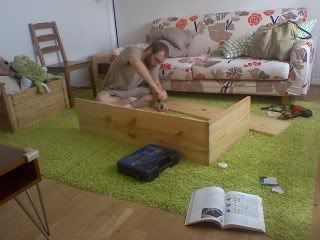 After bringing it outside and finding the most perfect spot on our small small lot we filled it with compost, vermiculite and peet moss recommended by square foot gardener Mel Bartholomew. I spent most of the time watching from the distance due to the insane amount of mosquitoes biting.
Hopefully they will be gone soon and I can get some good fall harvest out of my soon to be vegetable garden. We plan on planting basil chives, garlic, green onions, carrots, green beans, and cherry tomatoes. Wish me luck on this fun gardening adventure. I don't have high hopes for this first vegetable garden of mine. My only wish is that is isn't so disappointing I'm turned off of vegetable gardening all together.
Inspiration: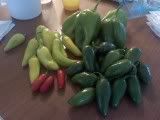 (Jenny's most impressive Organic Garden)